In compliance with the Virginia Graeme Baker Pool and Spa Safety Act which was put in place to enhance the safety of swimming pools, spas and hot tubs. This Act sets federal mandate that suction and entrapment devices be changed to become in compliance with the new Act.
This includes new pool drain covers in addition to many other changes and requirements that must be met under penalty of the law. Hayward is one of those companies that take your safety seriously. They have complied and are putting out their new safety products for residential and commercial pool safety.
What does the Federal Law Require of Pool Main Drains?
All main drains cover must meet with the ASME A112.19.8-2007. All covers that are on submerged suction outlets including and not limited to equalizer lines must also meet the ASME A112.19.8-2007. The Federal Law requires that the maximum velocity of the across drain may exceed 1.5 fps. All main drains must include a sump meeting dimensional and flow characteristic. All sumps need to provide a minimum distance between the bottom of the cover and the nearest location of the piping that comes into the sump. This must be equal to 1.5 times the diameter of the pipe or it must meet the minimum dimensions established by the covers manufacturer. The cover of the main drains must be secured to the sump. On all Single Main Drains, these requirements must be met. All water facilities must have a safety Vacuum Release System in place, a Suction Limiting Vent System, a Gravity Drainage System, an Unlockable Drain, an Automatic shutoff without a vacuum release.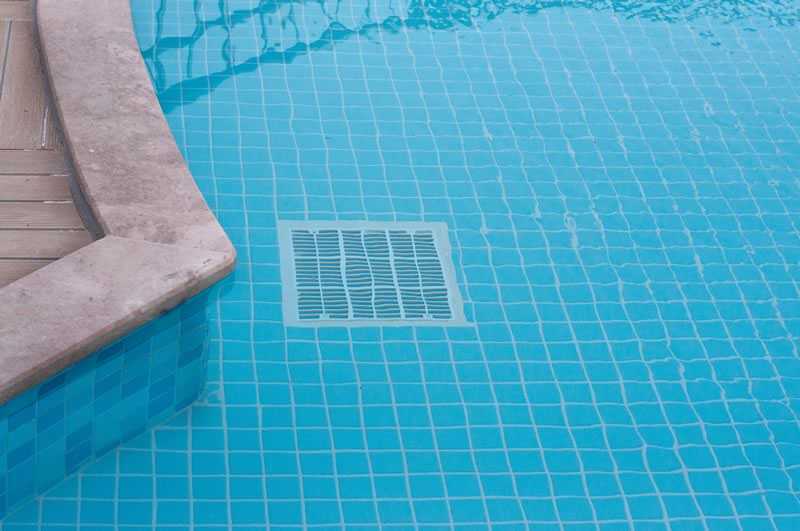 These main drains must have a drain disablement without the main drain. If facilities have a manual shut off switch and an audible alarm, the Federal Law Systems decree that this is not acceptable. On Multiple Main Drains, all drains must be spaced less than 3 feet apart from the required additional entrapment prevention measurements. All multiple main drains will need a design analysis to assure the hydraulic balance. All of these requirements started on December 19, 2008. There may be additional state laws that you must follow as well so we will inform you of issues we find while onsite.
If you are a public, rental, or condo type pool these laws must be followed or legal action could be taken against you.